A 90-day transformational journey to craft
your SIGNATURE TALK and become
the speaker you're meant to be.

Are you a kickass woman with a powerful message who's ready to share her VOICE from the stage?
Do you dream to be that speaker everyone loves and gets invited to speak over and over again?
A speaker as authentic and magnetic as Brene' Brown, Marie Forleo, and Glennon Doyle?
Chances are that, if you're reading this, you're dreaming of becoming a powerful speaker who influences hundreds from the stage. And you're looking for the right path to get there. But you've probably also run into the same problems I did.
How do I overcome fear? How do I get clear on my message? How do I find speaking opportunities and pitch myself as a speaker? Sound familiar? You see, there are thousands of speakers out there. So, how do you actually cut through? How do you stand out and become truly memorable while being authentically YOU?
Because you know what, the path to being a successful speaker can be exhausting. The gurus are telling you that you need SO many things. A speaker reel, written & video testimonials, 2 to 3 talks ready to go, a speaker one-sheet, a media kit, professional photos, an email list, fancy professional credentials. The list goes on. And they say you need all of these even before your first ever speaking gig. And who has time for that? I didn't and you probably don't either.
But, look, here's the good news, you don't need ANY of those things to become the speaker you dream to be. In fact, I discovered that what you actually need is waaay less complicated. What you need is the right, simple, step-by-step plan that starts with your most powerful assets: you, your story, and your message.
And that's how my exclusive, high-touch program WOMAN BORN TO SPEAK came to be.
WOMAN BORN TO SPEAK is all about making it possible & easy for you to become a sought-after speaker. You just need the right kind of guidance.
Because imagine taking the guesswork out of crafting a SIGNATURE TALK that inspires, moves, and converts audience members into raving fans. Imagine knowing exactly what you need to do to tap into your authentic voice, and find the message you were born to give. Imagine having a clear roadmap to identify your ideal audience, and go after the right speaking opportunities for you so that you can become a recognized expert & leader in your field.

And how nice would it feel to know that you have what it takes to be a magnetic and charismatic speaker? That the spotlight is available to you, too. Because the truth is … It totally is! Once you know the exact path you need to follow.
Do any of these sound familiar?
You have the burning desire to speak

from the stage, and change the world with your message.

You've been through a lot

and you have a powerful transformational story to share.

You're utterly confused

by what it truly takes to become a rockstar public speaker (and if you truly have it within you!). Do you really need all the fancy stuff the "experts" say you need?

You're afraid that maybe you're just not cut for this

. That maybe this dream isn't for you. Because you have all these ideas … And you're not sure how to choose the right ones so that the audience will listen … And sometimes you just feel like giving up.
I TOTALLY GET IT.
And I've created WOMAN BORN TO SPEAK for YOU!
Because I know that …
You're ready to make your dream of being a speaker a reality so you can grow your business and fan-base, and finally have the impact you crave (and deserve).

You have an impactful message to share, and want to impact thousands from the stage.

You have a big desire to serve with your voice and expertise, and are tired of playing small.

You're ready to push beyond your comfort zone to live the life of your dreams.
You can be that woman, too.
And I can help you get there.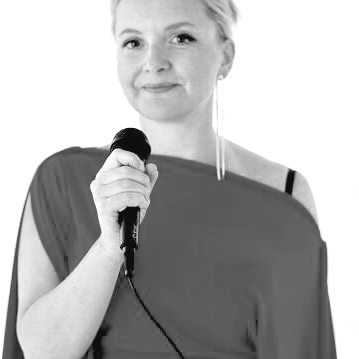 I'm Dr. Claudia Consolati,
the creator of "the speak up method", my signature system for sharing your voice & story from the stage.
I'm going to teach you the exact step-by-step process you need to become a rockstar public speaker, a speaker like Brene' Brown, Marie Forleo, or Glennon Doyle … Authentic, engaging, and moving. A speaker who inspires people to action, and changes lives from the stage. And gets paid to do so.

As a shy girl at heart, it blows my mind to say that I've done more than 3000 hours of public speaking! I've given paid keynotes at Ivy League universities and other prestigious colleges across the US and Canada. I've coached dozens of women across the globe, including many TEDx speakers, and I've grown a thriving business and a large following through the power of authentic, magnetic speaking.

But, the truth is, it wasn't always like this ...

I personally know what it means to want and dream of more but to think that … maybe, you just don't have what it takes.

I've always wanted to be a successful speaker … To earn what I was worth and to make the difference I'm here to make. I wanted to impact thousands of people's lives for the better.

But that wasn't my reality. And, where you are right now, it's not yours either.

Have you ever woken up in the middle of the night wondering why you're not yet where you need to be? And thinking - wow, I thought things would be different by now!


I thought I'd be a successful speaker by now ...

I thought I'd have thousands of raving fans ...

I thought I'd have more clients & more dollars in the bank …


IF YOU HAVE, YOU'RE NOT ALONE.

When I first started out as a speaker, I became very good very quickly. But there was a problem … Despite all my successes, something was missing. After my speaking engagements, I felt depleted rather than energized. And I felt I had failed to establish a true, soul-to-soul connection with my audience. Yes, I had delivered engaging content … But did I change lives? Did I leave the audience transformed at a cellular level? Sadly, no.

And the truth is that I was lost. I had no idea what I needed to do to deliver a life-changing talk. A talk that leaves your audience wanting more of you and what you have to offer. And that makes event organizers eager to book you over and over again.

And I kind of got to the point where I thought, maybe this isn't for me? Maybe I just don't have what it takes.

But the more I looked at the speakers that were having the success I craved, the more it hit me. They were approaching speaking in an entirely different way! And I'm not talking a silver bullet or short hack kind of way … I'm talking about …
A Whole Different Way of Being a Speaker and Sharing Your Voice from the Stage.
Their entire approach was drastically different than mine:
Instead of information, they offered TRANSFORMATION.

Instead of boring data, they mesmerized their audience through STORYTELLING.

Instead of hiding, they tapped into their most AUTHENTIC SELVES.


For them, it wasn't about the media kit, the fancy photographs, the perfectly polished speaker one-sheet. It was about emotions, humor, and, most importantly, authenticity. They weren't afraid to be themselves on stage. They spoke from the heart and that's what made them so magnetic.

So I, too, started to tap into the power of my authentic voice. I found my "Zone of Genius" message, the message I was uniquely positioned to deliver. And that's when things started to shift.


I made a promise to myself to be courageous, and to take massive imperfect action towards my dreams …

The truth is, it was a massive growth edge for me. I was used to hiding and staying small, while now I had to be vulnerable and share my story and my voice … in front of hundreds of people!

I learned through so much trial and error. It wasn't exactly fun but I learned a ton. And what it means is that I now have a bullet-proof roadmap to guide you along your journey of becoming a powerful speaker.

Because all you need is ONE step-by-step strategy. A strategy tailored to your authentic voice and story.
And that's where WOMAN BORN TO SPEAK comes in.
WOMAN BORN TO SPEAK is the personalized, high-touch roadmap you need to achieve the speaking success of your dreams. Because achieving success as a speaker is a lot easier when you know the exact path to follow.
Ready to know more? Read on!
At the end of WOMAN BORN TO SPEAK, you'll:
Be crystal clear on your "Zone of Genius" message, the message you're uniquely positioned to deliver.
Have conquered your public speaking fear and busted through limiting beliefs keeping you small and playing it safe.
Have a completed, ready-to-go signature talk crafted following my exclusive template. A talks that educates, entertains, moves, and leaves the audience wanting more of you and what you have to offer.
Know exactly where to find the right speaking opportunities for you, and how to pitch yourself to event organizers and meeting planners.
Have mastered my fool-proof method to harness the power of your presence for head-turning delivery, body language, and charisma.
But this exclusive program is not for everybody ...
It's not for you if you:
Are NOT ok working hard and getting outside of your comfort zone.

Are NOT coachable and ready to learn.

Are looking for a get-rich-quick scheme. Being successful as a speaker takes time & commitment.

Are looking for a do-it-for-you solution. Because, the truth? Having someone do it for you is NOT the best way to go. You need to put all of YOU in your talk and message.
This is ONLY for the woman who doesn't wait by the sidelines. The woman who's ready to take action and go after her dreams. The woman who says "No more!" to playing small & being safe. The woman who's ready to work hard and play hard.

"If you have a dream, it
means you were CUT for it.
You have everything
you need to achieve it."
(Dr. Claudia)
Here's how this exclusive 90-day coaching package works:
Find your "ZONE OF GENIUS" MESSAGE - the message you're uniquely positioned to deliver, and that your ideal audience can't wait to hear.
Get into the right SUCCESS MINDSET FOR PUBLIC SPEAKING for unshakable confidence and charisma.
Harness the POWER OF YOUR STORY for max authenticity & impact.
You'll be crafting your SIGNATURE TALK!
EDITING your signature talk - from good to great to unforgettable.
Pro secrets for KICKASS DELIVERY, BODY LANGUAGE, & PRESENCE.
Plus, you'll get some awesome BONUSES:
BONUS 1: Marketing Success for Speakers (valued at $1549)
BONUS 2: How to Customize your Talk to WOW Any Audience (valued at $333)
BONUS 3: Pre-Stage & Post-Stage Rituals to Overcome Stage Fright for Good & Harness the Power of Your Presence (valued at $249)
BONUS 4: How to Create Head-Turning Titles so That Event Organizers Can't Wait to Book You (valued at $333)
WOMAN BORN TO SPEAK includes:
ONE initial 90-minute coaching call (with recording)

NINE 60-minute coaching calls (with recording)

Videos, worksheets, workbooks, and checklists

High-touch, customized email support from me

Customized feedback on your videos.

Custom written editing & review from me.

This is not another group program where you get limited to no attention. This is a high-touch, customized, 1:1 experience. All my brain power will be devoted to making YOU the best speaker you can possibly be!
READY TO GET STARTED?
There are 2 easy ways to pay:
1 payment of $3,500
3 payments of $1,200
NOT SURE IF THIS IS THE RIGHT PROGRAM FOR YOU?
CURIOUS IF THIS IS THE RIGHT PROGRAM FOR YOU?